Win a Torrent Ratio Keeper License – Free Giveaway – Exclusive
Hello! Don't you know that you can win a free License key? 🙂 We provide 9 keys for contest on Leecher Mods portal:
1x Torrent Ratio Keeper Monster Edition
3x Torrent Ratio Keeper Leecher Edition
5x Torrent Ratio Keeper Basic Edition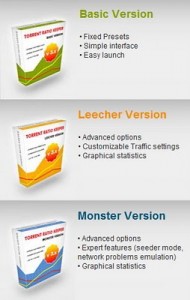 You are required to fulfil two simple conditions as written below:
1. Follow @Leecher on Twitter and Share this article on Twitter, Facebook, Digg or any other Social Site and post the link of that in the comment.
2. Follow our Blog with Friend Connect or sign in to Google while writting your comment and ensure in your Profile is your contact info email or ICQ, YIM included so that they can contact you back and give you, in case you win, the license.
That's it, after doing this you're in the contest and the lucky winners will be announced here.
UPDATE! The contest close on 20th March 2011.
Tags: Free Giveaway